Griffith University has committed to a three-year partnership with a leading health technology accelerator program based within the Gold Coast Health and Knowledge Precinct.
The LuminaX Healthtech Accelerator is a 14-week innovation program that fast-tracks commercialisation and market-readiness for up to 10 Australian health technology startups each year.
Cohort Innovation Space, one of Queensland's largest innovation spaces and a centrepiece of the Gold Coast Health and Knowledge Precinct, launched LuminaX in 2021.
Under the agreement, startups who are chosen through a national competitive process, will be mentored by Griffith's globally regarded health and science academics and access the university's cutting-edge research facilities and resources.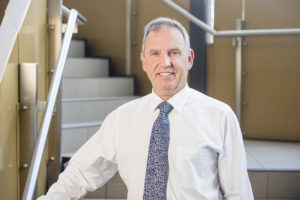 Griffith University Vice President Industry and External Engagement, Dr Peter Binks, said the partnership represented a key collaboration for the university.
"We are very impressed with what Cohort has achieved in the Gold Coast Health & Knowledge Precinct," Dr Binks says.
"This is a key collaboration for us, which will support students to gain startup skills, and create new pathways to commercialisation for our R&D in the health sector."
"Directing a pipeline of promising health tech startups to the Precinct and facilitating collaboration with Griffith experts is fundamental to developing the Gold Coast's knowledge economy."
Griffith alumnus Elliot Miller won Founder of the Year at LuminaX in 2021 for his work developing Hearoes, a gamified auditory training app for those with hearing loss impairment.
"LuminaX was a huge stepping stone towards commercialising Hearoes and getting the app to market," says Miller.
"The program exposed me to industry-leading experts for mentoring and advice and brought the product to investors with an appetite to transform people's lives through health technology and innovation."
Griffith's support for LuminaX comes from the university's Business, Health and Sciences schools, a joint undertaking reflective of the multidisciplinary collaborative opportunities the program can offer Griffith students.
"We would love to see Griffith-based startups applying for LuminaX, where our students and researchers from Business, Health and Sciences pool their knowledge to develop and commercialise new health products and services," says Dr Binks.
"We want our people to become the innovators who can translate and commercialise the next generation of health technologies.
Since launching in 2021 LuminaX has accelerated 21 Australian startups with $1.2M in direct capital through our VC partners and mentors network, provided connections to over 200 clinicians and experts, linked 9 startups with access to clinical trials and research projects, and supported raising another $2M post program.