One of Griffith's biggest supporters in the field of spinal cord injury research has been recognised with the Queensland Community Foundation (QCF) Board of Governor's Outstanding Achievement Award for 2020, while a former Science graduate has also received the QCF Philanthropy Innovation Award.
Perry Cross AM, through his Perry Cross Spinal Research Foundation, has raised over $11 million dollars in the past 10 years for research, kick-starting several major projects which include the Spinal Injury Project (SIP) at the Griffith Institute for Drug Discovery (GRIDD), which was pioneered by 2017 Australian of the Year, Emeritus Professor Alan Mackay-Sim.
Professor Andrew Smith, Pro Vice Chancellor (Science) said Cross, who is on 24-hour life support, was an inspiration to many.
"We warmly acknowledge the unwavering support for spinal injury research that Perry has provided through his leadership of the Perry Cross Foundation," Professor Smith said.
"It's a testimony of personal inspiration both for those who struggle with spinal injury and to researchers who are striving for new break throughs.
"We thank Perry and the Foundation for their close support of our spinal injury research at Griffith University, as it has been a tremendous commitment over the years that is bearing real fruit."
Professor Smith's counterpart in Griffith's Health group, Pro Vice Chancellor Professor Sheena Reilly, was similarly appreciative of Cross' continued support.
"I am delighted to acknowledge Perry's advocacy and his contribution to spinal injury research," Professor Reilly said.
"Griffith University'spartnership with the Perry Cross Spinal Research Foundation has been instrumental to the success of our research program.
"The Foundation has provided significant support for our researchers."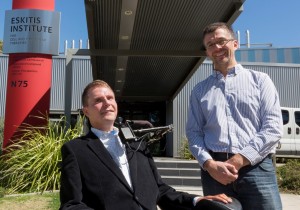 Associate Professor James St Johnsaid it was thanks to the generous support of Perry's Foundation, that SIP was now progressing towards a human clinical trial to treat spinal cord injury.
"This is all thanks to Perry's vision and his determination to create positive change for people living with spinal cord injury," St John said.
"Perry Cross is an inspiring philanthropist and certainly deserves the recognition. It is always a highlight to hear Perry speak to an audience about the impact of spinal cord injury and the need to find a cure.
"Spinal cord injury affects 15,000 Australians and Perry's Foundation is raising crucial funding."
Dr Dinesh Palipana, a Griffith Health graduate leading the innovative Biospine project on the Gold Coast, said Cross fostered hope among many.
"Science often unintentionally sidelines the very people that it's meant to benefit, therefore, it is so important for people that benefit from research to be involved in the closest possible way," Palipana said.
"Perry has done this in the best way. Through his work, he not only empowers people with spinal cord injury but advances the science.
"He fosters hope, so we may all be able to stand one day when spinal cord injury is not a life sentence."
Cross is believed to be the only philanthropist and motivational speaker on life support, demonstrating an example of bold and determined leadership in philanthropy.
The Perry Cross Foundation's most recent philanthropy has supported research programs at Griffith investigating everything from the development of therapies to promote regeneration by removing damaged cells, a project led by Associate Professor Jenny Ekberg, to repairs to the injured spinal cord with olfactory glia transplantation under Dr Matthew Barton.
Griffith Bachelor of Science alumnus Simon Lockyer also won the QCF Philanthropy Innovation Award for his work co-founding Everyday Hero and Five Good Friends, the latter being the first technology enabled and data driven home care provider in Australia.
He is also a co-founder of Youngcare, which was formed in 2005 to provide young Australians with high care needs and their families dignified and relevant care and living options.