In recognition of its programs and research involving viral diseases and their transmission from animals to humans, Griffith University has been named as a Global Virus Network Centre of Excellence.
The GVN is a coalition of preeminent human and animal virologists from 53 Centres of Excellence and 10 affiliates in 32 countries across the world working collaboratively to train the next generation of researchers and advance knowledge to identify, diagnose and control pandemic viruses.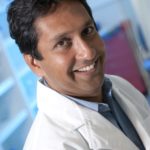 Professor Suresh Mahalingam, leader of the Emerging Viruses, Inflammation and Therapeutics (EVIT) group at Menzies Health Institute Queensland said it was a great honour to be invited to join the prestigious organisation.
"Our program of research involving viral diseases and their transmission from animals to humans is a vital part of the GVN mission, working to prevent and treat viral infections and prepare for undiscovered viruses with pandemic potential,'' he said.
"Griffith is now one of just three GVN Centres of Excellence in Australia and our group's focus on emerging infectious diseases in arbovirology, alphaviruses and inflammatory diseases as well as our research into SARS-CoV-2 will be critical towards advancing knowledge."
The EVIT group's research program is focusing on basic mechanistic research to understand how emerging and existent viruses, particularly arboviruses such as chikungunya, dengue and Zika, cause disease.
"Our goal is to improve the understanding and management of viral diseases by advancing our knowledge about pathogenesis and developing vaccines to prevent disease."
"The GVN membership will enable us to build new networks and collaborations to further our innovative work as a leading regional research centre in arbovirology."
A key focus of EVIT group is to translate the research outcomes to improve health outcomes for patients. It has established long-term commercial partnerships with pharmaceutical and vaccine companies to bring new drugs and vaccines to market.
Professor Mahalingam and his team are working with leading international vaccines manufacturer, Indian Immunologicals Limited, to develop a vaccine for COVID-19.
"We are jointly developing a live attenuated SARS-CoV-2 vaccine or COVID-19 vaccine using the codon de-optimisation technology. The technology has enabled us to make changes to the virus's genome to decrease replication efficiency in human cells and render it harmless."