In a volatile business world, it's more important than ever for industry professionals to guide and support those just beginning their career journeys.
Griffith University Masters recipient Mo Moezzi and third-year business student Georgia Smith are a case in point. The pair connected through Griffith's Industry Mentoring Program and have developed such a rapport they plan to continue working together after the program concludes.
Mo is the founder and manager of Gold Coast digital marketing company Wexpert Pty Ltd. Launched in 2012, Wexpert is highly regarded for its innovative use of latest technology across E-commerce, Google Ads, SEO and Paid Social Media Advertising to help grow businesses online.
Previously, Mo's marketing and management expertise included leadership of major digital and performance strategies for brands such as SurfStitch, EziBuy and The Critical Slide Society.
Iranian-born Mo completed a Bachelor of Arts (Economy) from Pune University in India before moving to Australia in 2009. Through the Griffith Business School, he completed a Masters degrees in Marketing and Human Resources.
It was during this time that Mo participated in the Industry Mentoring Program as a mentee. Today his involvement is as a mentor, one driven by the desire to ease uncertainty among students and graduates as they prepare to enter a rapidly changing business environment.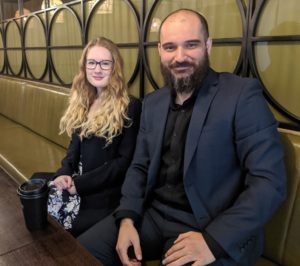 "For me, it's an extension of what I do with Wexpert," Mo says.
"I always strive to have a personal connection with my clients because I believe it works more efficiently towards positive business results. It also enables delivery of outcomes with an actual value, not merely a perceived value.
"This may not be readily apparent to young people at the start of their careers.
"They can be as uncertain as the business sector itself. But if I can identify their strengths and then guide them accordingly, that helps to build confidence while reducing stress and uncertainty."
One strength he identified in Georgia was content marketing. She has flourished under Mo's guidance and is excited about future projects.
"I needed career direction. I needed an experienced perspective on where my particular skills and strengths could lead me," says Georgia, who is majoring in Marketing and Management.
"With content marketing and thanks to Mo's insights, I've now been part of a lot of projects, held meetings with business and industry, made good connections and found the clarity I needed."
Find out more about the Griffith University Industry Mentoring Program here.
This story has been contributed by a third party.