Professor Sheena Reilly, Griffith's Pro Vice Chancellor (Health) and one of the countries foremost experts in paediatric health, has been awarded a Member of the Order of Australia (AM) in the 2020 Queen's Birthday Honours.
She was recognised for her significant service to tertiary education, to medical research, and to paediatric speech pathology but Professor Reilly said her work had not been an individual pursuit.
"I have had the good fortune to work with passionate and incredibly talented people throughout my career," Professor Reilly said.
"Together we have been devoted to understanding how children's speech and language develops, why some children have problems and importantly, how we can best help the children and their families."
She said some of her proudest moments were watching clinicians and scientists she had mentored go on to achieve great things in their careers.
"I was so fortunate to have great mentors during my career and I thank them for being so generous with their time and for their investment in me."
Professor Reilly also said 2020 had posed great challenges to staff and students in the Health Group but she was proud of what had been achieved during uncertain and rapidly changing circumstances, when health was more important than ever.
"COVID-19 has reinforced the importance of a having well-trained health workforce and the critical nature of the research being undertaken in our universities, whether that, be developing a vaccine or researching the impact of COVID-19 on our health and well-being."
Griffith's Health Group is one of Australia's largest and most diverse comprising eight Schools, around 500 staff and over 10,000 students.
Professor Reilly is an Honorary Fellow with the Murdoch Children's Research Institute, and an Honorary Professor in the Department of Paediatrics, University of Melbourne.
She holds a B.App.Sc (Speech Pathology) from Curtin University and a PhD from the University of London, UK.
Also in the Health Group, Professor Julia Crilly has been recognised for her service to emergency care nursing.
"I am certainly honoured to be receiving the Medal of the Order of Australia (OAM), especially this year, given 2020 is International year of the Nurse and the Midwife," she said.
"With nearly a decade of clinical emergency nursing at Gold Coast Health and over a decade now of full time research specialising in emergency care, I am most passionate about understanding and improving emergency health care delivery for vulnerable patient groups (e.g. older people, people with mental health problems, and people in police custody) as well as improving the working environment of ED staff who provide such vital care.
"I am fortunate to have been in a joint appointment between Griffith University and Gold Coast Health since 2014. This position really allows me to bring experts from the clinical and academic setting to answer important questions, that at the end of the day, aim to improve care delivery for people requiring emergency care."
Professor Crilly studied her undergraduate Nursing degree at Griffith, along with her Master of Emergency Nursing with Honours and Doctor of Philosophy.
Vice Chancellor and President of Griffith University, Professor Carolyn Evans congratulated Professors Reilly and Crilly, and said the honours were high praise for some exceptional individuals.
"This is wonderful news and very well deserved," Professor Evans said.
"Professor Reilly has delivered outstanding leadership of the University's Health Group and recently led the development of a new community-based research program aimed at breaking the cycle of disadvantage in Logan thanks to a $5.5 million grant from the Paul Ramsay Foundation, the largest donation ever awarded for a Griffith initiative.
"Professor Crilly has been with Griffith since her undergraduate degree in Nursing and she is now making a difference helping vulnerable population groups, which aligns closely to Griffith's values.
"We are a progressive and highly respected university dedicated to learning, leadership and innovation but I think what truly sets us apart is our social conscience.
"Griffith is dedicated to making a difference, and this has never been more evident than during the COVID-19 pandemic.
"A number of our key research teams have accepted the challenge of finding a vaccine for the virus, while other academic and professional staff rallied to ensure students received quality learning and teaching opportunities despite being unable to set foot on campus."
Friends of Griffith recognised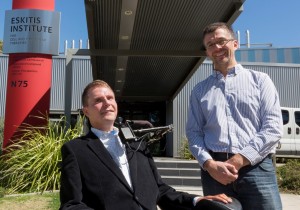 Friends of Griffith also recognised with honours include Perry Cross, who received an AM for his significant service to people living with a spinal cord injury, and as a role model.
Griffith's innovative Spinal Injury Project (SIP), which is based at the Clem Jones Centre for Neurobiology and Stem Cell Research, came to life with funding support from and continued lobbying by the Perry Cross Spinal Research Foundation. He is also a vocal supporter of the University's Biospine project.
Advisory Committee Chair of Griffith's Clinical Trial Unit, Mario Pennisi has been awarded an AM for his significant service to the biomedical sector, to commercialisation initiatives, and to research.
Pennisi was the founding Director of Life Sciences Queensland, of which Griffith is a founding member.
Dr Jenine Beekhuyzen was awarded an OAM for service to information technology, and to women. Dr Beekhuyzen was Griffith Sciences Alumnus of the Year in 2016.
Griffith also congratulates Rebecca Frizelle on receipt of an OAM for service to the automotive sector, and to rugby league. Frizelle served on the University's Gold Coast Advisory Council.