Professor Elisabeth Findlay will take up the top post at the Queensland College of Art this week – the first woman to serve as Director since the College was established in 1881.
Professor Findlay will shift from her current role as Director, International at Arts, Education and Law (AEL) and previously served as International Convenor and Deputy Director of the QCA.
Leading by example
Her appointment reflects a lifelong commitment to arts education.
"I feel very honoured to lead the QCA into its 140th year," she said.
"Being the first female Director is significant, and I hope to be a role model for other women in the arts who aspire to leadership roles."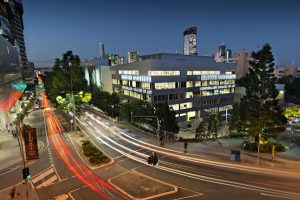 Professor Findlay said her priorities included expanding industry and alumni engagement, supporting the QCA's unique Contemporary Australian Indigenous Art program and encouraging inter-disciplinary and cross-cultural collaboration.
"There are exciting times ahead," she said.
"We are Australia's longest running arts college, and I'm looking forward to building on our traditional strengths by embracing technology and cross-disciplinary work.
"We want our students to feel like they're somewhere special, and create an environment where they can experiment and push the boundaries."
Making a contribution
Professor Findlay said students at the QCA benefited from being part of the wider Griffith community.
"We are very lucky that there is overwhelming support for the creative arts here at Griffith," she said.
"Our students can leverage off thinkers in other disciplines, from engineering to medicine, and Griffith values are embedded in everything we do – from sustainability to social justice issues.
"The ability to think creatively is more valued than ever before.
"We hope our students leave as stronger individuals who have a sense of how they can contribute to the world and make a difference through their art practice."
A life-long passion for art
Professor Findlay grew up in Papua New Guinea and lived in UK for several years before embarking on an academic career at the Australian National University.
"I lived in the UK as a teenager and attended lots of exhibitions, which sparked my interest in art," she said.
"I originally signed up to do an archaeology degree at ANU, but an art history lecture changed my life."
Professor Findlay's area of expertise is portraiture.
"At its heart, portraiture is all about people and their stories," she said.
"Portraiture tends to resonate with audiences, and at moments of social tension when people feel dislocated, it helps open up a dialogue about identity and what it means to be human."