Alan Mackay-Sim is a world-renowned trailblazer in cell transplantation, paving the way for innovative research on repairing damaged spinal cords to return the gift of movement to paralysed people.
The Professor Emeritus from Griffith University is now 2017 Queensland Australian of the Year and a nominee for the national honour. More importantly, he's a man with an unquenchable desire to make a difference and change lives.
In 2014 when paraplegic Darek Fidyk stood upright and tentatively put one foot in front of the other, the world was captivated. An astonishing achievement of science was hailed by experts as being "more impressive than man walking on the moon". Four years earlier, Darek had been paralysed from the chest down after having his spinal cord completely severed in a knife attack.
The Polish firefighter may have been operated on by specialists in Europe but the heart of this amazing story began in Brisbane with this soft-spoken, genteel biomedical scientist.
In 1987, Professor Mackay-Sim came to Griffith University where his research focused on the olfactory organ responsible for the sense of smell.
What was interesting about the olfactory sensory neurons was their capacity to regenerate throughout a lifetime, unlike spinal cord cells. This regeneration is possible because of stem cells in the nose. He wondered and later proved these nasal stem cells could be transplanted into areas of the nervous system to aid repair and regeneration.
It took 20 years for the research to lead to a successful world-first human clinical trial in Brisbane. Professor Mackay-Sim and his team had proved transplanting nasal cells into the spinal cord was safe.
"The success of our human trial wasn't one of those eureka moments where you go, 'Wow, it's all safe', or 'It all works'. Because the trial takes so long, it's a step-by-step process and all of those involved in the trial were recruited over time. So nothing ever happens immediately.
"But overall, you're really pleased once you get all the data together and you know it's safe. It's a fantastic realisation. From there you're buoyant about doing further trials to see if it really works."
More trials and testing followed by different people around the world, all evolving Professor Mackay-Sim's groundbreaking findings. Then there was the defining operation in Poland in 2014 by a British-advised Polish surgical team. With nasal cells transplanted into his severed spinal cord, Darek Fidyka slowly but surely showed signs of recovery in his sensory and motor functions.
From the darkness of despair, a light had been switched on giving people suffering paralysis renewed hope they too may be able to walk again.
After breaking his neck playing rugby in 1994, Queenslander Perry Cross is a C2 quadriplegic and has been working closely with Griffith's medical teams and promoting the ground-breaking research for more than a decade.
"It's been 22 years since I was injured and to see the advancements in the research and human clinical trials has been overwhelming. There is now light at the end of the tunnel," said Mr Cross said.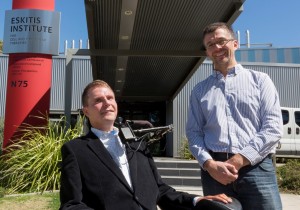 There was no-one happier than Mr Cross upon learning his friend was Queensland's nomination for the 2017 Australian of the Year Award.
"The stature of this award helps Alan's work get noticed on a wider level and the flow-on benefits are enormous. We can go to businesses and other communities and show them just how much tangible progress has been made in this area."
Spinal cord injury affects about 12,000 people in Australia alone, with 300 new patients each year — not to mention the many other conditions Professor Mackay-Sim is helping find treatments for.
His research has championed the use of olfactory stem cells to understand the biological basis of brain disorders and diseases such as schizophrenia, Parkinson's and Hereditary Spastic Paraplegia.
He is now focused on so-called 'disease in a dish' research that looks at ways to understand these conditions as he supervises the work undertaken at the Griffith Institute for Drug Discovery at the University's Nathan campus in Brisbane.
Schizophrenia affects about 1% of the population. Hereditary Spastic Paraplegia is much rarer, affecting five to 10 people in 10,000.
"But it has a lifelong effect so it affects those people for most of their adult life," Professor Mackay-Sim, who served as director of the National Centre for Adult Stem Cell Research for a decade, said.
"Research in biomedical areas is dominated particularly by the big killers — cancer and heart disease. It's also dominated by the success of drugs to treat those conditions.
"These people often feel desperate because they feel they've been left out, nobody's interested in their disease and they're never going to get a drug for their disease.
"But I think that stem cells and this approach of 'disease in a dish' can help because we can get cells from individuals and be investigating disease in these rare conditions in ways we couldn't do before."
Professor Mackay-Sim said knowing that patients are grateful for their efforts helps drive his research teams.
"Meeting people with the disease that we've become interested in is very motivating," he said.
"It's very moving to learn how the disease affects them and how their hope for treatment affects them and their families, it's very motivating."
The Professor has had his pioneering research work heralded during his career. In 2003 he was named Queenslander of the Year and now he can add the 2017 Queensland Australian of the Year.
"It is a wonderful opportunity to represent teams of people I've worked with and to represent people whose diseases or conditions we work on."
The nomination also makes no mention of the personal struggles the very private researcher has faced.
A few years ago, Professor Mackay-Sim was travelling the world attending conferences and meeting with colleagues, all the while battling debilitating back pain. It was diagnosed as multiple-myeloma.
The irony of a stem-cell researcher needing his own stem cell transplant wasn't lost on the Sydney-born scientist.
"I received an autologous stem cell transplant but fortunately I was healthy enough to have a transplant. I won't lie and say it was easy. The treatment became really tough," the Professor explained.
"My having myeloma is not part of my professional life. It's partly why I retired but it's not really part of what I'm contributing to Australian society through my work.
"I guess all of the research that I'm now involved in says something about me. Okay, so I've got multiple-myeloma, but I am focused on the future and I can see life in those research projects.
A global authority on the human sense of smell, it's no surprise that Professor Mackay-Sim has chosen a giant nose to represent himself and his work. The nose had pride of place in his office for years and is now on display at the Australian National Museum in an exhibition for the Australian of the Year awards.
Professor Mackay-Sim has always remained positive and is as upbeat as the trademark white wispy moustache he has worn throughout his adult life — even through chemotherapy treatment
His wife Lisa Peine points out she has never known him without it. The pair met in the United States. Soon they were together down under.
Amid his involvement with several continuing research projects at the Griffith Institute for Drug Discovery, the couple has also set goals for plenty of bicycle tours in Professor Mackay-Sim's 'retirement'.
Throughout his decades of scientific work and discovery, Professor Mackay-Sim has, as the Queensland Australian of the Year Award explained, "laid the foundation for the next generation of researchers and demonstrated the value of inquiry, persistence and empathy".
"I decided I wanted to do scientific research because I wanted to make a difference. You know, all young people want to make a difference in the world when they start out, and I saw that maybe through doing biomedical science that I could."
The Professor will also be keeping a close eye on clinical trials in 2018 at the Griffith University Clem Jones Centre for Neurobiology and Stem Cell Research. The work on spinal cord injury repair continues and builds on Professor Mackay-Sim's ground-breaking research.
If you'd like to contribute to groundbreaking research at Griffith University, please visit this page.