No matter where you look at this year's Australian University Games, you are sure to spot a red shirt… or more.
With a record number of participants in 29 of 32 sporting events, Griffith University is set to dominate at the UniGames being held on the Gold Coast from 27 September to 2 October.
For elite swimmer and Griffith student Emma McKeon, the UniGames is not only a chance for her to prepare for next year's Olympic Games in Rio de Janeiro, but to support Griffith.
"The University and Griffith Sports College have supported me so I'm excited to be part of the UniGames and represent Griffith," says Emma.
"It'll also just be a really fun thing to be a part of as I've never competed in it before."
Emma, a Bachelor of Public Health student who juggles a busy training schedule with part-time studies, says she enjoys being able to balance study with her sporting commitments with support from the Sports College.
Emma won gold at the 2014 Glasgow Commonwealth Games in the 200m freestyle, 4x100m freestyle relay, 4x100m medley relay and 4x200m freestyle relay, and bronze in the 100m butterfly and 100m freestyle.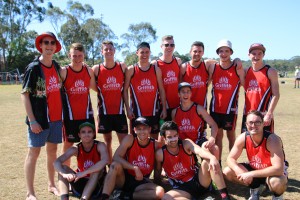 Griffith's touch football team captain Sam Yip says the UniGames provide an opportunity to meet like-minded people from across the country.
"Personally, I think it's about making friends who are all there for sport and overall have a good time," says the Bachelor of Business student.
He adds he enjoys being part of the Griffith team as the University has a great culture of being involved in sport at elite and social levels.
Griffith Sport development and recreation manager, Natalee Black, says that with more than 420 participants, this year's team is the biggest that Griffith has ever taken to the UniGames.
She says Griffith is looking strongest in netball, touch football, swimming, cycling, futsal and athletics.
"This is the biggest team we've had since 2009 when we placed fourth overall, just behind Monash, Sydney and Melbourne universities," says Natalee.
"This year is definitely the most sports we've ever competed in across the board, and it's the first time we've ever had competitors in all of the martial arts events, so we are hopeful for some good results and another top 10 finish."
The UniGames will be held at locations across the Gold Coast, including Griffith. See here for program.